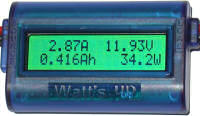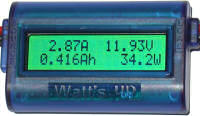 ☀☀ Watt Meter ☀☀
This is the one !
Works like a champ!


Watt Meter/ Real Time Readout !
Data Logger!
Small and Super Powerful!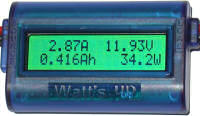 Rating

!
WU100 - 79.00

---
Why You Need One
Without a wattmeter, a techie/builder is left to guess or estimate what's going on. This trial and error approach can rob performance and damage components.
You can't get top performance from DC motors and battery systems without the accurate information our Wattmeter provides. The "Watt Meter" is easy to use. It's like jumper cables. Connect between a power source and a load and you can measure all the important electrical parameters. It doesn't interfere with the components you connect it to. It's perfect for Solar Systems, Wind Turbines, Motorized bicycles and trikes, EV's,
Any cool projects/battery systems where you need all of the incredible info this meter provides!
LIKE A GAS GUAGE FOR YOUR DC ELECTRICAL SYSTEM !


FEATURES: Works with Any Solar, Wind, Car or Boat - DC battery system
High resolution on all measurement ranges to accurately check battery
battery pack cell balance and measure single cell packs
Connects like jumper cables and troubleshoots poor performance,
charging problems, battery capacity, decling batteries,
erratic receiver and servo operation and many other common electric
problems
Readings are easily reset, even without removing power, by adding an
external pushbutton connected to the reset signal of the meter's
auxilliary connector, The full user manual (v1.7) at the RC
electronics has details on this function.
Sets cutoff currents and voltages, compares components and detects
wear prior to component's failure
Measures eight essential electrical values;
Captures Peak Amps, Peak Watts and Minimum Volts events as short as
a fraction of a second
Current: 0-100A Peak, 50A Continuous, .01A Resolution
Charge: 0-65535mAh, 1mAh resolution
Power: 0-6500 Watts, .1W Resolution
Voltage: 4-60V, .01 Resolution (0V min. using auxiliary
receiver battery
Energy: 0-6500 Watt Hours, .1Wh resolution
Powered by circuit-no battery to change
16 character, 2 row LCD display
8 MIPS microprocessor and DSP firmware for highest performance
One year warranty
__________This is theWatts Up Watt Meter with Blue Case____________