WildNature Solutions



SOLAR and WIND CHARGE CONTROLLERS


DIVERT LOAD CONTROLLERS and DIVERT LOADS
The main function of a charge controller is to protect your batteries from over charging,
so a good charge controller is important for protecting battery life!

(Scroll down towards the end of this page
for our Diversion Controllers and Diversion Load items)


Here are our choices for best value and performance



10Amp Solar Panel Charge Controller 12/24V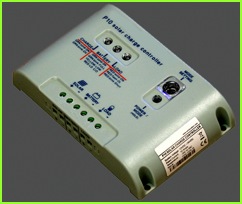 Terrific little charger!

10Amp Solar Panel Charge Controller 12/24V
$39 + FREE SHIPPING!
(48 states free, call for AK, HI and PR shipping cost)




✵ ✵ ✵ ✵


Flexcharge NC25A 12V and 24V Solar or Wind Charge Controllers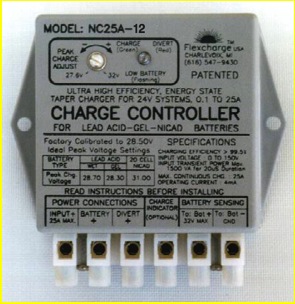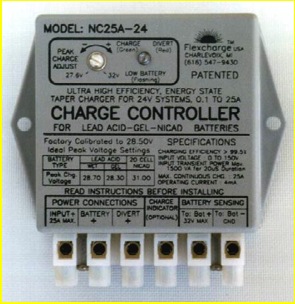 Very high charging efficiency (99.5%+),
dependable and simple to operate!

5 YEAR WARRANTY.

COMPLETELY SEALED ELECTRONICS FOR MARINE OR OUTDOOR MOUNTING.

LOW BATTERY VOLTAGE INDICATOR. (FLASHING RED LIGHT).

CHARGING EFFICIENCY BETTER THAN 99.50% FROM 0.5A TO 30A OF CHARGING CURRENT.

OPERATES EFFICIENTLY (98%) WITH AS LITTLE AS 0.1A OF SOLAR PANEL CHARGING CURRENT.

EFFICIENTLY CHARGES BATTERIES FROM 0 VOLTS WITH FULL POWER.

25 AMP CHARGE DIVERT CIRCUIT. STABLE DIVERT CIRCUITRY PREVENTS ERRATIC RELAY SWITCHING IF CHARGE SOURCE VOLTAGE DROPS.

DIVERTS ONLY WHEN VOLTAGE AND CURRENT ARE AT USABLE LEVELS. PERFECT FOR MOTOR TYPE DIVERT LOADS (FANS, PUMPS, etc...)

CONSUMES LESS THAN 5mA (0.005A) WHILE CHARGING AND AT NIGHT, 2mA IF YOU DO NOT USE THE CHARGE INDICATOR.

CHARGES BATTERIES AT FULL POWER, BELOW THE PLATE SATURATION POINT, THIS CHARGES BATTERIES FASTER, AND REDUCES ELECTROLYTE DEPLETION BY UP TO 90% OVER CONVENTIONAL CONSTANT VOLTAGE, PWM, & HIGH FREQUENCY CHARGE REGULATORS.

BATTERIES START CHARGING AT 0.005A OF CHARGE CURRENT.

CONTROLLER CAN WITHSTAND OPEN CIRCUIT INPUT SPIKES OF 1500V/A, & 140V CONTINUOUS WITHOUT DAMAGE.

REVERSE POLARITY AND TRANSIENT VOLTAGE PROTECTION ON THE BATTERY SENSE WIRES.

NO POWER WASTING SAMPLE PERIODS.

REMOTE BATTERY VOLTAGE SENSING SO THE CONTROLLER CAN BE MOUNTED ANYWHERE BETWEEN THE CHARGING SOURCE AND THE BATTERIES.

EASY TO INSTALL USING THE LABELED CORROSION RESISTANT NICKEL / BRASS / STAINLESS STEEL CONNECTOR.

U/L 94V-O RATED ENCLOSURE AND UL LISTED OR RECOGNIZED COMPONENTS.
Flexcharge NC25A 12V
$120 + shipping




Flexcharge NC25A 24V
$125 + shipping


✵ ✵ ✵ ✵

30Amp PWM Solar Panel Charge Controller 12V/24V with Digital Display,
a menu of display options and user adjustable settings (great little charger!)
The perfect solar charge controller for an RV, boat, small cabin or any other off-grid installation
where user configurability and system information is important.
Battery temperature sensor (BTS) is included.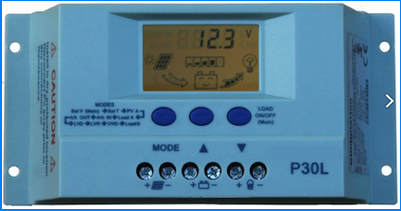 30Amp 12V/24V Solar Panel Charge Controller with Digital Display
$69 + FREE SHIPPING!
(48 states free, call for AK, HI and PR shipping cost)



✵ ✵ ✵ ✵


Midnite Solar KID 30Amp MPPT 12/24/48V Solar Charge Controller
Available in White or Black in Standard or Marine models
Compact size 9.5"x 3.4"x 6.6"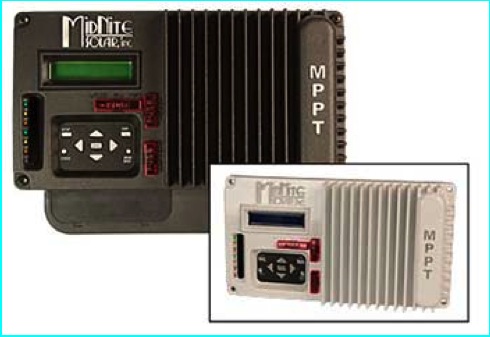 FEATURES:

MPPT Tracking

True paralleling - Inputs and Outputs for two KIDs

Up to 150V input

MidNite's exclusive HyperVOC extends the input voltage beyond 150 VOC for cold climates

12V, 24V, 36V, 48V battery output

Lighting Controller: dusk-dawn, hourly, day, night settings

Up to 30 amps battery output with low input voltage based off of PV configuration

No fan

Reverse polarity protected

Battery Temp Sensor standard with marine version only.

Front panel exchangeable fuses for battery, input and load/clipper. Marine version supplied with circuit breaker load circuit

3 LED bar graph for battery status at a glance

Keypad for access to extensive menu items and set points

Includes wall mount adapter (Boat mount bracket included on marine versions)

Sealed for harsh environments

Built in Arlington, WA USA
30Amp KID White or Black Standard Model
$329 + shipping

30Amp KID White or Black Marine Model

Marine models come standard with a mounting bracket, 4' of flexible conduit and
extra protection against moisture, dust, chemicals and extreme temperatures
$379
+ shipping

Mounting brackets are standard on Marine KID Controller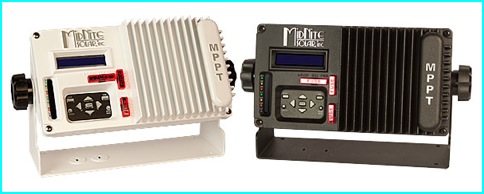 Add a second KID when you add more solar panels
Can be used as a lighting controller also!
Keypad for extensive menu items and set points
Made in the USA!


✵ ✵ ✵ ✵


Xantrex 40Amp 12/24/48V Solar Charge / Divert Controller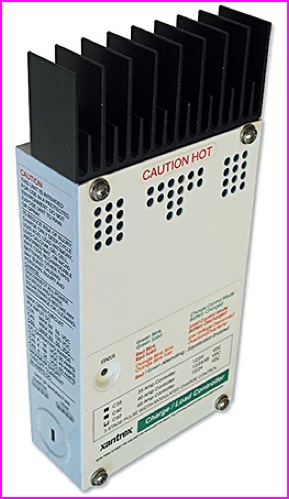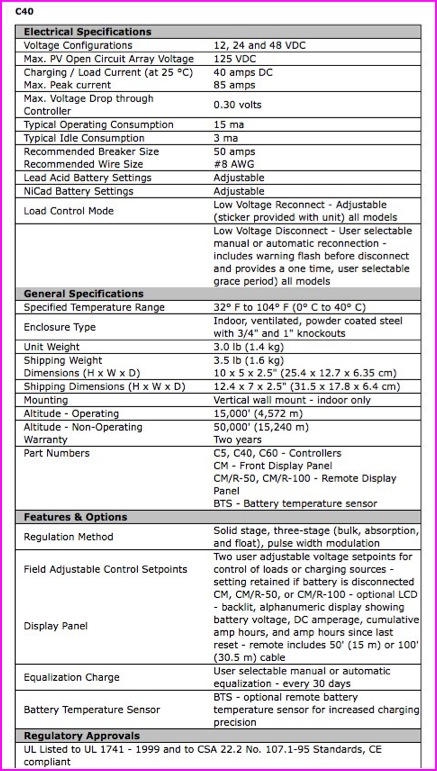 A controller for virtually any DC charging source
3-Stage battery charging
UL Listed

FEATURES:

Silent, pulse width modulated (PWM), high efficiency operation

Three-stage battery charging (bulk, absorption, and float)

Automatic overload protection in both active and passive modes

PV array short circuit and reverse polarity protection.

Durable construction

Backed by a two year warranty

Microprocessor controlled
Xantrex 40Amp 12/24/48V Solar Charge / Divert Controller

$159.00
+ FREE SHIPPING

(48 states free, call for AK, HI and PR shipping cost)

✵ ✵ ✵ ✵



C-Air 65Amp Solid State PWM
Solar-Wind-Hydro Charge / Divert Controller
12/24V with High Contrast LED Volt Meter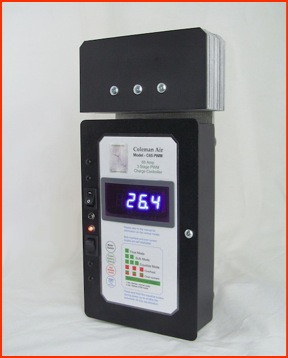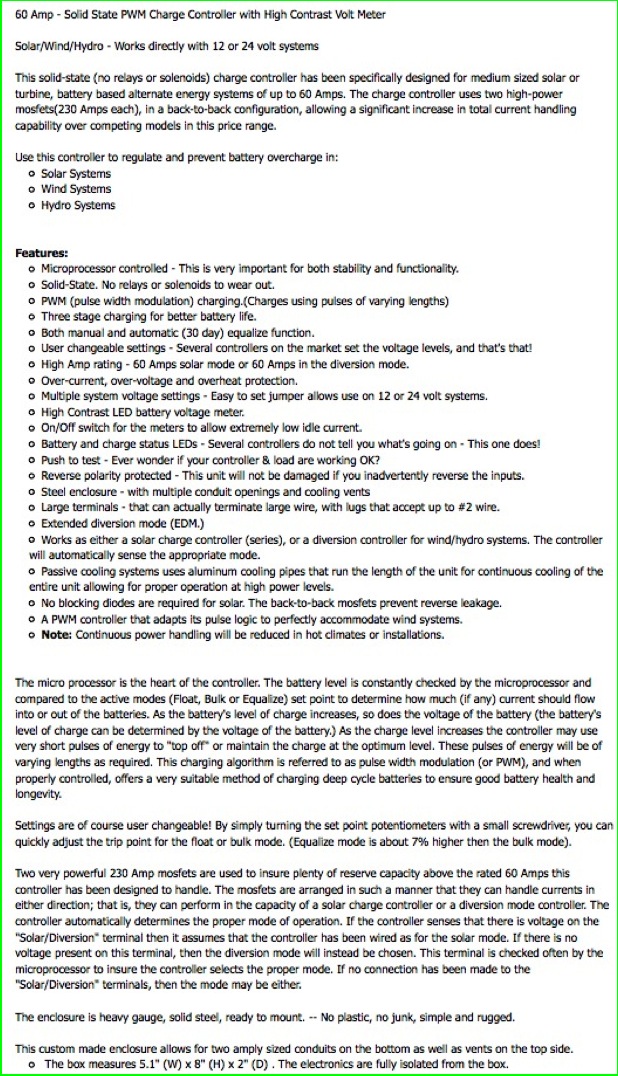 Heavy gauge steel enclosure with conduits at bottom
Top side vents
Fully isolated electronics
Made in the USA!

Customer's installation of 3- 60A's as Divert Controllers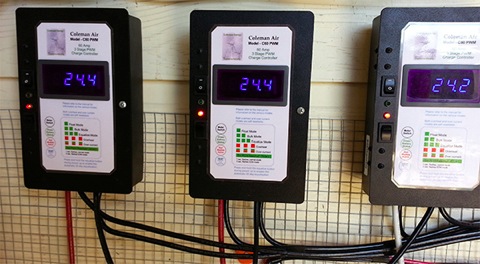 C-Air 65Amp Solid State PWM
$209 + shipping


✵ ✵ ✵ ✵


C-Air 440Amp / 10,000Watt
Solar-Wind-Hydro Charge / Divert Controller
12/24/48V with High Contrast LED Volt Meter

FEATURES:

Microprocessor controlled -- This is very important for both stability and functionality

User changeable settings -- Several controllers on the market set the dump level, and that's that!

Super High amp rating - 440 Amps -- 10,000 watts (125 Amps for solar)

Works directly with 12, 24 or 48 volt systems -- The relay contacts can handle open collector voltages of up to 120 volts

High Contrast LED battery voltage meter with on/off switch

Battery status LED

Push to test. -- Ever wonder if your controller & load are working OK?

Large (8" x 12") solid steel enclosure, with multiple conduit knockouts

Large enough terminal blocks that you can actually terminate large wire

The electronics are fully isolated from the enclosure, no ground loops

Can divert the source from the batteries to the load, or dump both the batteries along with the source

Draws almost no energy while monitoring (

all electronics

must use some power, to work -- this is a miser)

Reverse Polarity protected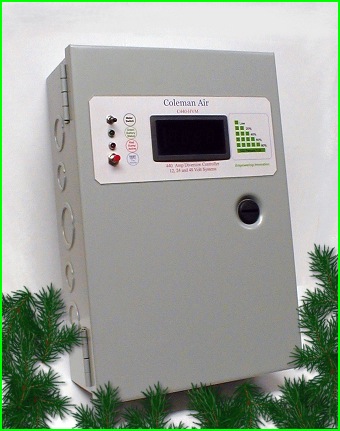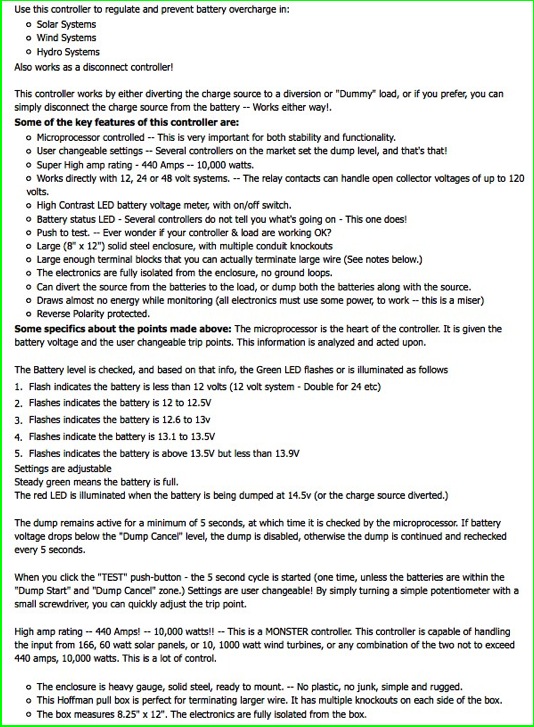 All the features you need a divert controller to do!
User friendly & adjustable, large steel enclosure box, test button and
battery status indications

C-Air 440Amp / 10,000Watt Solar-Wind-Hydro Charge / Divert Controller
12/24/48V with High Contrast LED Volt Meter
$269 + shipping


✵ ✵ ✵ ✵



C-Air 6" 12V or 24V 600W DC Submersible Water Heater Element Divert Load
Used as divert load with solar panels, micro hydro turbines and wind turbines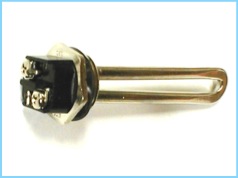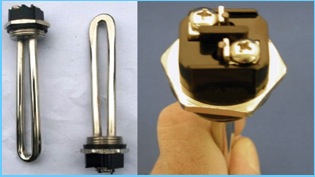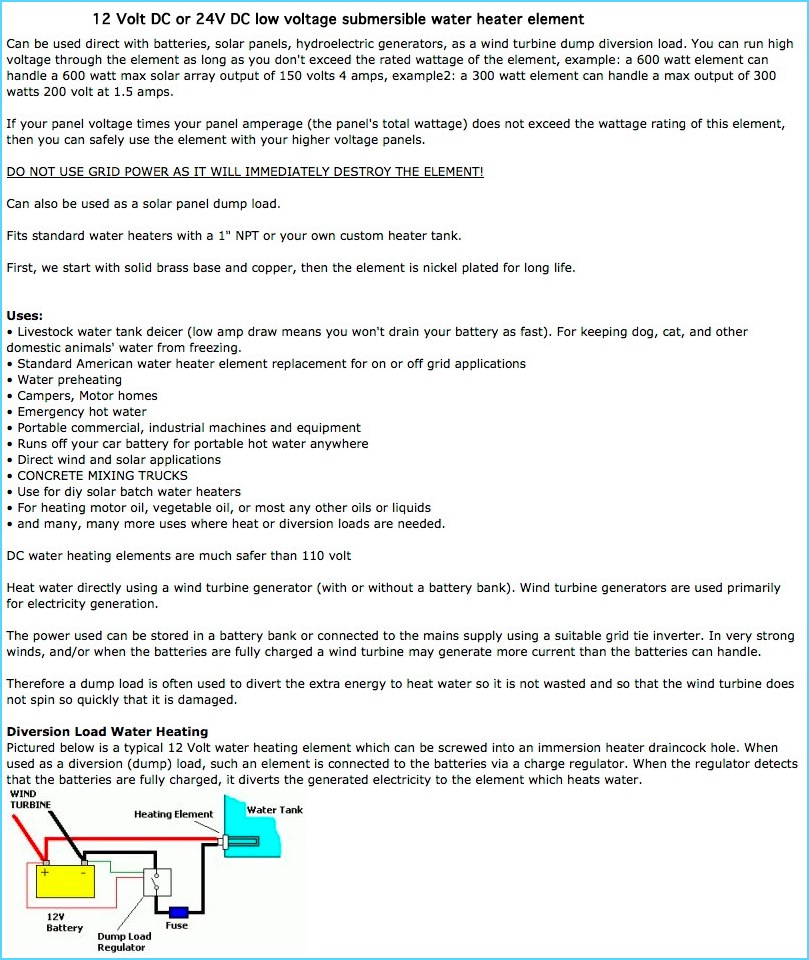 C-Air 6" 12V 600W DC Submersible Water Heater Element
$69 + shipping


C-Air 6" 24V 600W DC Submersible Water Heater Element
$69 + shipping



✵ ✵ ✵ ✵



9.25" 12-24V or 24-48V DC Submersible Water Heater Element Divert Load
Used as divert load with micro hydro turbines and wind turbines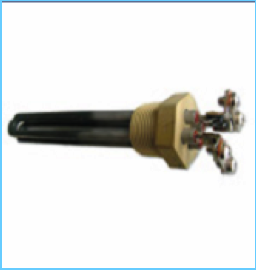 Fits most standard electric water heaters with screw-in elements


9.25" 1450W 24-48V or 900W 12-24V DC Submersible Water Heater Element
$175 + shipping


✵ ✵ ✵ ✵



C-Air 90A/ 12V 1250W Divert Load Resistor Heater
Solar-Wind-Hydro Divert Load
Designed for use with Diversion Controllers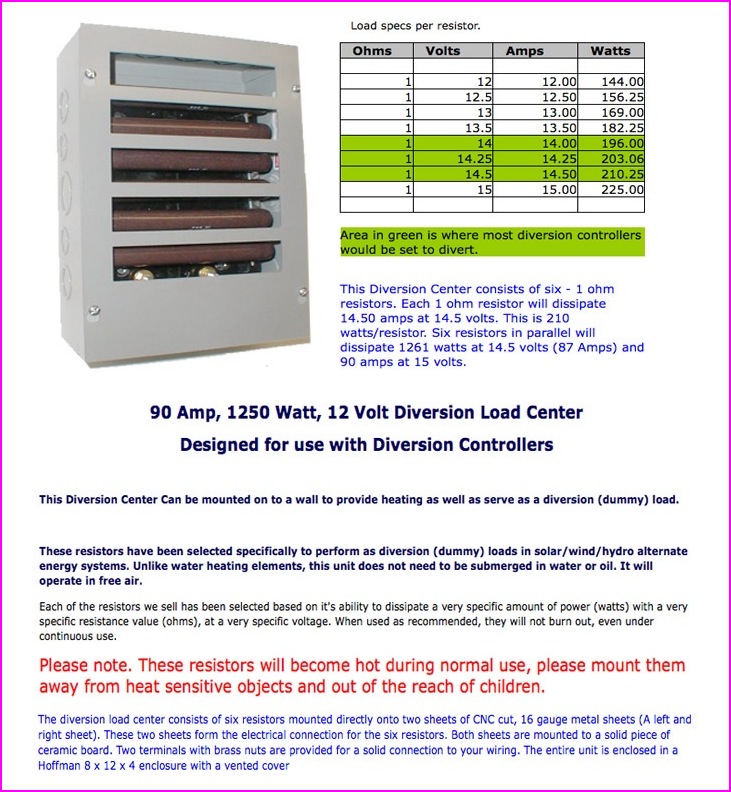 Can be mounted on wall to provide heating as well as serve as divert load


C-Air 90A/ 12V 1250W Divert Load Resistor Heater
$169 + shipping


✵ ✵ ✵ ✵


C-Air 35A/ 24V 1000W Divert Load Resistor Heater
Solar-Wind-Hydro Divert Load
Designed for use with Diversion Controllers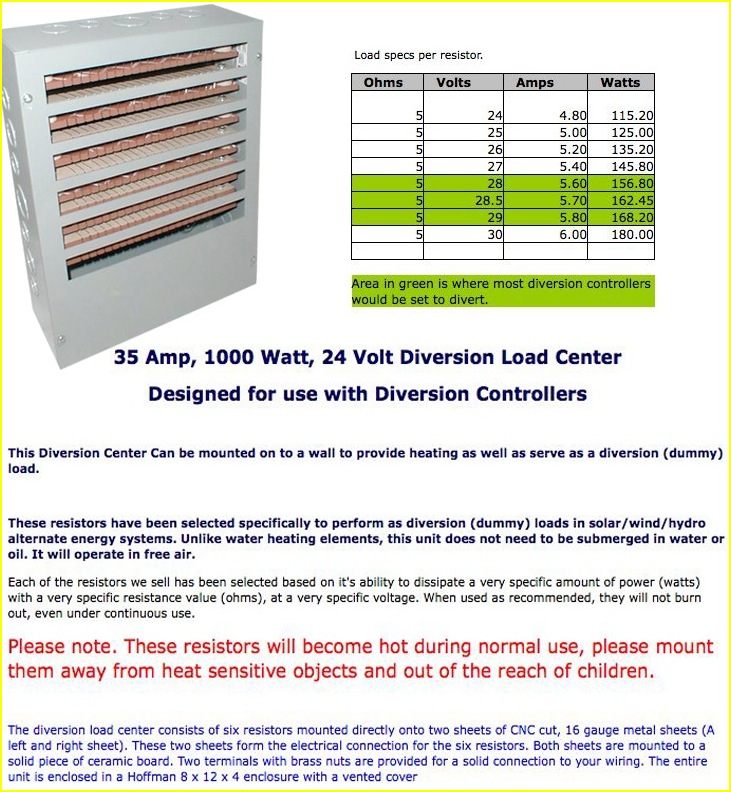 C-Air 35A/ 24V 1000W Divert Load Resistor Heater
$169 + shipping


✵ ✵ ✵ ✵



C-Air 36A/ 48V 2160W Divert Load Resistor Heater
Solar-Wind-Hydro Divert Load
Designed for use with Diversion Controllers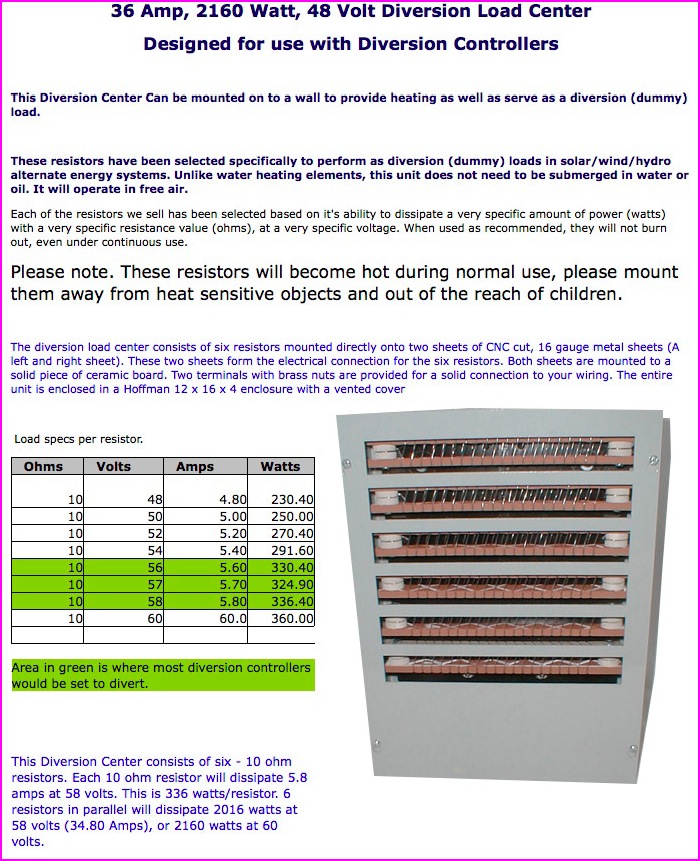 C-Air 36A/ 48V 2160W Divert Load Resistor Heater
$229 + shipping





Ideas? Questions? Need How-to's ?
Call our excellent tech support, we can answer your questions!

WildNature Tech / Sales Line:
Toll free 1-866-799-1770
9am -9pm PDT - 7 days a week
wildnaturesolutions@gmail.com