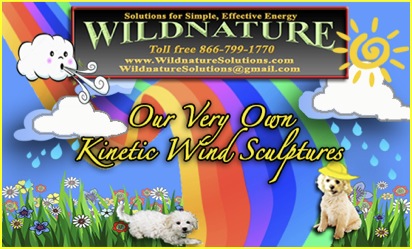 WE ALL NEED OUR SPIRITS LIFTED RIGHT NOW!
OUR WIND TOY FARM IS OPEN & READY
(safe distance is real easy here!)
FOR YOU TO TAKE HOME YOUR VERY OWN SMILE FOOD!
Our smiles are so important now more than ever, and our fabulous wind toys give you every reason to keep smiling!
We're taking $50 off every wind toy! Yay!!
--------------------
Call, text or email 866-799-1770 ☞ wildnaturesolutions@gmail.com ☞Very long page to scroll down (lots to see!) ☞Prices average $349/up ☞Prices located towards bottom of this long page☜
--------------------
FLOCK OF BIRDS

Flock of Birds is sooo much more than a wind toy... it is truly a wind sculpture! You have to see it to believe the amazing movement!
Sixteen sparkling spirals turning on 4 rotating and spiraling stainless steel strips to give you the impression of birds in flight. And the movement of the spirals make a really pleasing rain sound. Wow!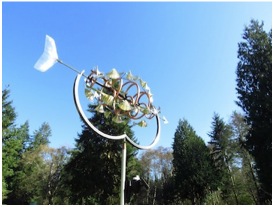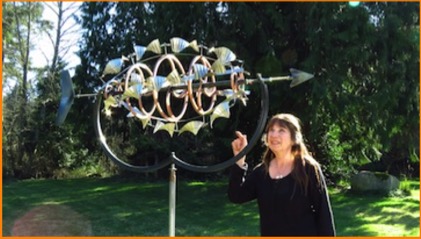 Watch this amazing sculpture in action:


--------------------
AMORE!

This new design is sooo sweet! The 2 wheels with heart patterns turn opposite to one another creating such a lovely pattern!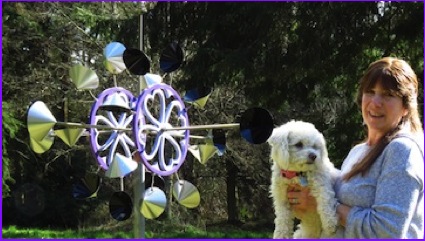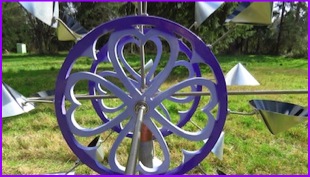 Delightful video of her movement!


--------------------
SMALLER SPIRAL HELIX WIND VANE

These wind vanes are turning out to be really popular, already!
A never-ending spiral pattern that moves so easy in a light breeze...
This smaller sister to our larger Spiral Helix Wind Vane is also quite mesmerizing to watch... see for yourself!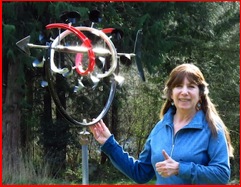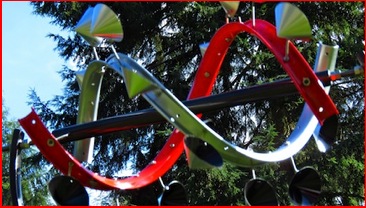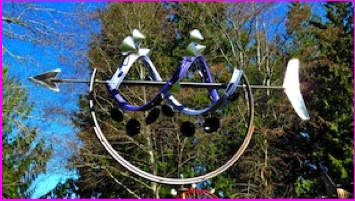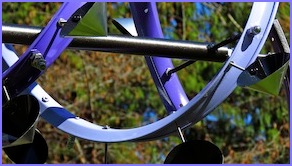 Mesmerizing!


--------------------
SPIRAL HELIX WIND VANE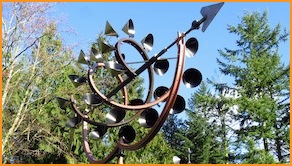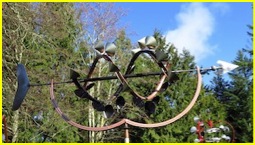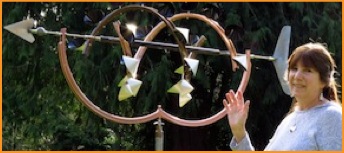 This new design is amazing to watch! It's quite a large sculpture that moves in a light breeze so you can't take your eyes away! It's a fabulous center to any garden. The 2 horizontal spirals rotate in a "never-ending" pattern AND it's a wind vane... wow!
See the cool video:


--------------------
QUEEN OF HEARTS

A perfect wind sculpture for your special sweetie!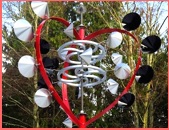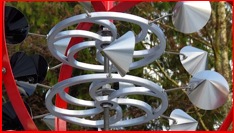 This red, sparkly beauty has 3 red stainless steel frames creating a 3-D heart each with wind driver cups, and 2 silver spiral wheels inside the frames that rotate in the opposite direction to the frames.
The result is a beautiful, 3-D red heart moving in the wind!! Your sweetie will love it!!
See the sweet video here:



SEA BIRD!

We've been soooo busy creating and building more of our most unique wind vanes!
We have named this beauty SeaBird... guess why??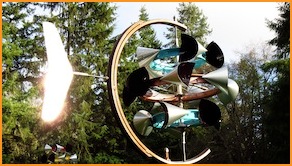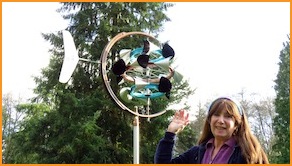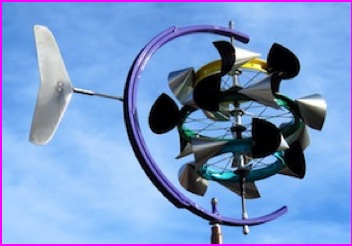 The 3 horizontal wheels move opposite to one another in the wind, and the "C" rim moves around those wheels, driven by the sparkly stainless steel tail moving with the direction of the wind.
Watch the little video below (better video coming as soon as weather permits):

SEA STAR WIND VANE!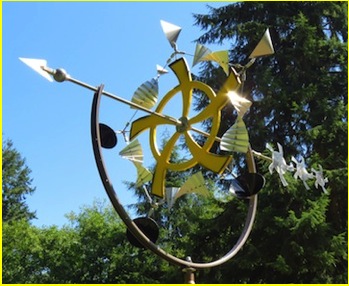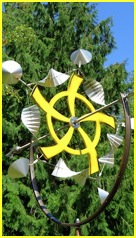 No one, absolutely no one, has ever built a kinetic sculpture like our "Sea Star"!
After you've watched the video below, you'll think "Wow! How does it do that??"
The answer is with an incredible amount of (a) complicated design/creation work (just like our "Wheel in the Sky"), and (b) being able to build what the mind can dream...!
As the large wheel rotates in the wind, the 6 spirals turn and depending on the speed of the wind, they will become varying kinds of illusions.
This one will "knock your socks off" ! You must see the video below!


WHEEL IN THE SKY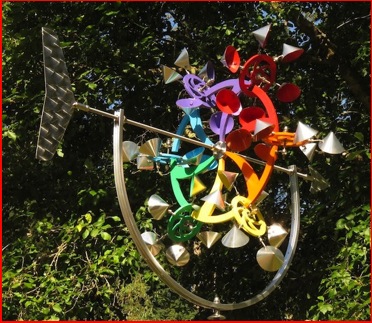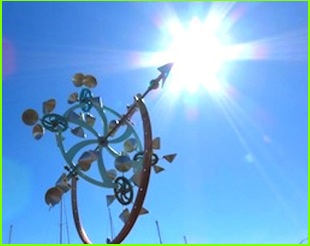 "Wheel in the Sky" (keeps on turnin'...) is sooo unique and mesmerizing!!! The large spiral-pattern wheel turns, it's a wind vane, and the 6 smaller spiral wheels turn on the larger wheel, all creating a magnificent feast for your eyes... really!!
It is quite a complicated build, and absolutely NO ONE can design and build (but we can!) a wind sculpture quite like this one! Take a look at the video below so see what we mean...


MINI VENUSIAN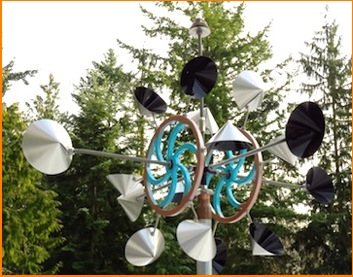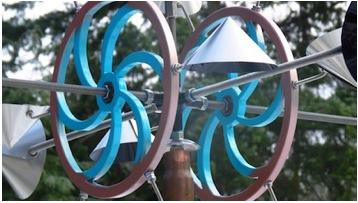 Instead of bicycle wheels for our Venusian design, we've created the Venusian with 8" spiral wheels that turn opposite to one another for a super effect! These are the same style wheels we use for our 4-Wheel Drive (very popular)!


PURPLE MINI VENUSIAN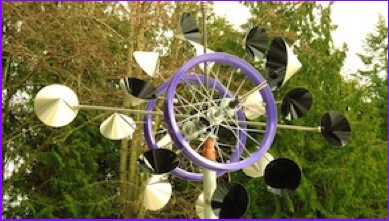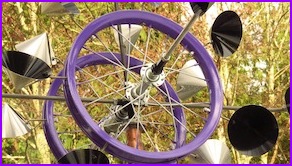 Great color, super spinner! Somewhat smaller than our standard Venusians, but oh so cute!
See the video here:




One of our Rain Gauge/Wind Vane/Snow Gauge in a garden of flowers! (more photos further down this page)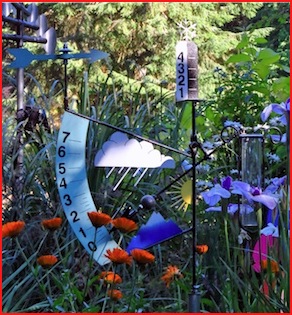 FLYING BUTTERFLIES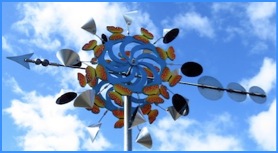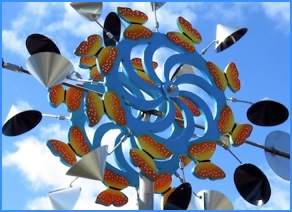 Whew! This fabulous wind toy/wind vane was truly a labor of love! Hand-painted butterflies rotate around 2 spiral wheels, truly flying! The spiral wheels rotate opposite to one another, and when you look at them from the side, the spirals make an flower-illusion pattern together (just like our Illusion wind toy!)
See the video below:



HALF MOON SPIRAL WIND VANE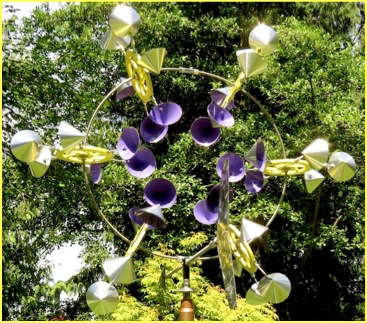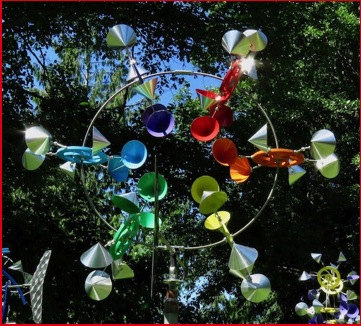 One of the most graceful wind sculptures ever!!
A fabulous evolution of our original spiral wind vane...
The video below speaks for itself!
Watch the graceful movement for yourself:



4-WHEEL DRIVE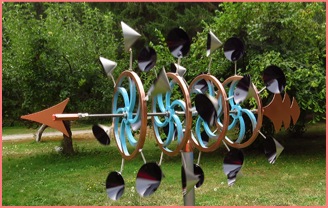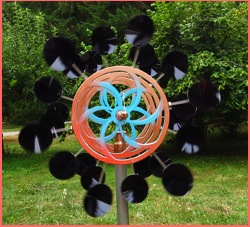 4-Wheel Drive is a gorgeous wind sculpture and wind vane!
4 spiral wheels, all with wind driver cups, rotate in the opposite direction to each other, whilst the whole wind sculpture turns with the direction of the wind. The coolest thing is that when all of the wheels are directly lined up to your vision, the spiral patterns make elegant flower shapes!
(Note: this wind toy has been our most popular!!! It's fabulous to watch!)
Check out the video of this unique, mesmerizing wind toy!



BREEZY BIRD BUFFET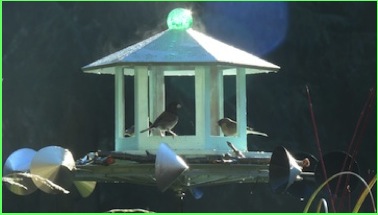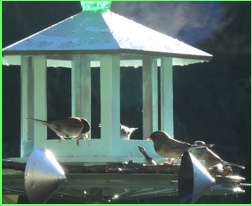 A rotating wheel, with wind driver cups, AND a bird feeder!!
No one has ever combined the two before... except now we have the most unique garden sculpture ever!! It won't move too fast for the birds, so it's perfect!
Our birds love the Breezy Bird Buffet, see for yourself in this video!


INSTRUCTIONAL VIDEO FOR INSTALLING YOUR WIND SCULPTURE

LOOPER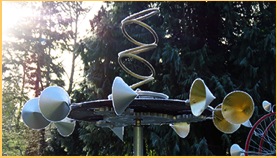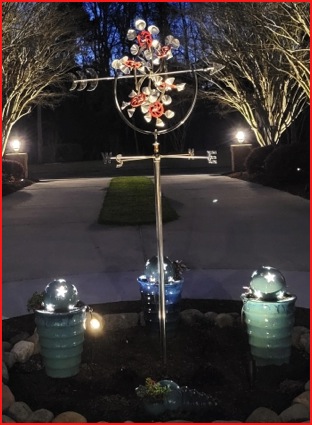 HOOPER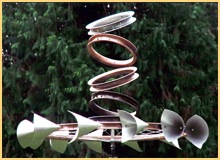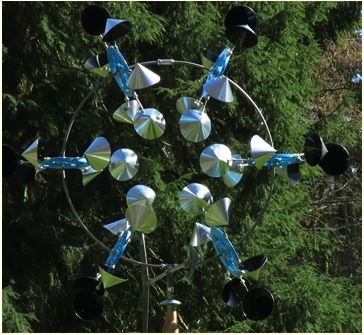 Really unique wind toys that not only create a visual illusion, it's a tribute to some old tire ads! Really! Tire stores used to attach tires in this fashion, and they put them on the roof or in front of the store to attract folks. These wind toys are extremely mesmerizing to watch!
Each horizontal rim rotates in the wind, and the hoops look as if they're each rotating in place.
Very unusual!
Videos of Looper and Hooper coming soon!


RAIN VANE with added SNOW GAUGE!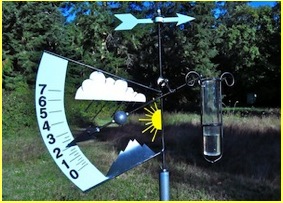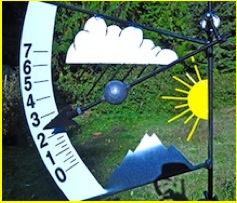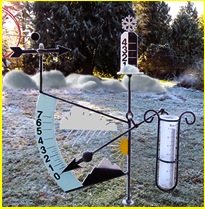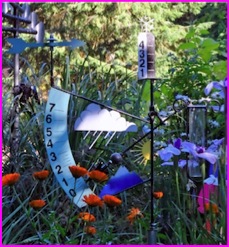 We've taken our original stainless steel Rain Gauge and made it lots better!
It still measures by the water's weight (no one else does this!). And now it has a sun and mountain shapes all welded together. AND it's a wind vane with a lovely painted arrow at the top. AND NOW it has a snow gauge! YES! Really!
We've designed it so that you can easily read the inches of water and see the direction of the wind from anywhere in your garden, AND see how much snow fell too!
Video showing RainVane in action!

ILLUSION!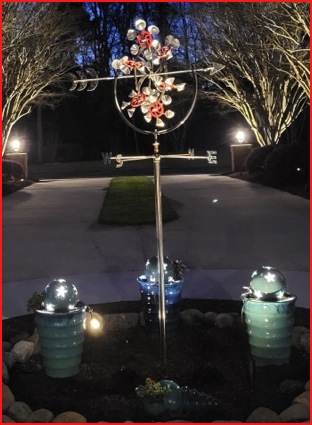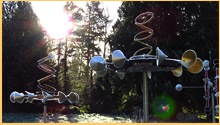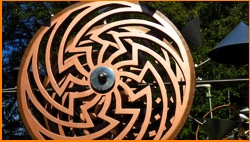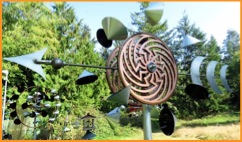 This is an amazing design that will catch your eyes right away! The wheels turn opposite to one another (like our popular Venusian) to create a real optical illusion the way the pattern interacts, and it's a wind vane also!
The stainless steel pointer and tail finish off this one-of-a-kind design!
Watch this fabulous video showing our Illusion's unique wheel pattern!

DOUBLE HELIX SPIRAL!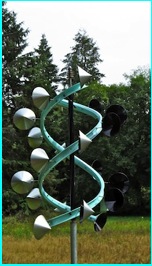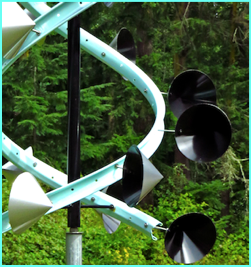 A real eye catcher! Think DNA... The multiple wind driver cups sparkle in the sunlight as they spiral in the wind... she's so fascinating to watch!
Our video of Double Helix's graceful movement:


ROUND 'N ROUND!!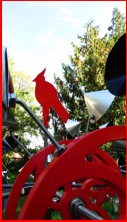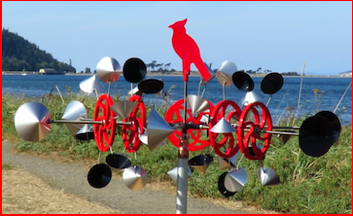 Twin wheels X 3 circle the center with the cardinal on top! So interesting to watch, with six 4" vertical wheels turning independently in the wind, while all the wheels go round 'n round (horizontally) in the wind! It has super breezy action and is so fun to watch! We can customize the shape at the top for you (cardinal bird in the photo), also...
Video of NEW Round 'n Round coming soon!


RAINBOW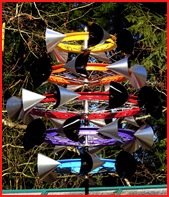 This stunning sculpture has long been one of our most popular designs! Rainbow truly moves in the slightest breeze, and most folks comment that the movements look like schooling fish! Truly unique, and such a "happy" wind toy!
Click on this link to see the video of our beautiful "Rainbow"! It is simply gorgeous!


HYPER DRIVE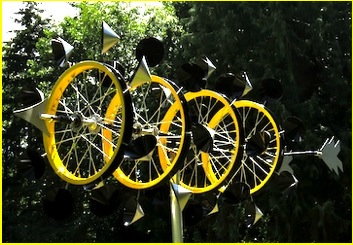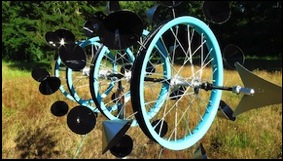 We've taken one of our most popular wind sculptures and super-sized it!
All 4- 16" bicycle wheels move in opposite directions to one another, and just like the original 4-Wheel Drive, it is a wind vane, so the pointer and tails keep it pointed into the wind. This Hyper Drive has dual tails for superior wind tracking, thereby showing you the wind direction efficiently. It's BIG, bright and beautiful!!
Watch this super-sized wind toy fly!


DIAMOND SPIRAL WIND VANE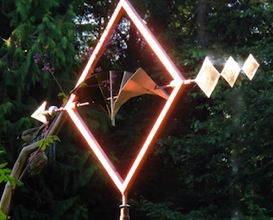 This sparkly wind vane turns into the wind and when it does, the spiral turns producing a magical linear pattern in the sun!


SATURNIAN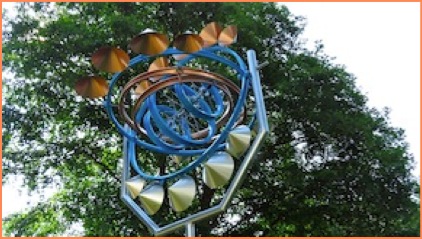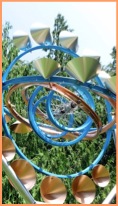 Watch as she tumbles, twists, turns and rotates! She's big & fascinating to watch! Multiple rims tumble around one another, and in the center are 3 smaller wheels tumbling at random! You've never seen a wind toy so interesting!
Our video of this very sophisticated wind sculpture showing really unique movement!

FLUTTERBY

Fluttering Flutterby is here!
The 2 spirals rotate together and are lined with butterflies flying in the breeze...
We also lined the spirals with solar LED fairy lights so they light up in your magical night time garden!!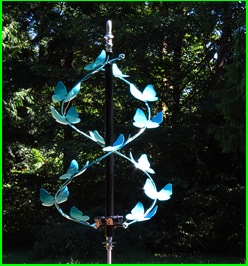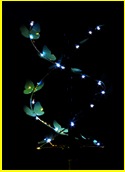 2 new videos of Flutterby - Day flight


Flutterby night flight


Keep scrolling down for prices,
it's a really long page

SUNNY SKIES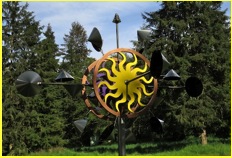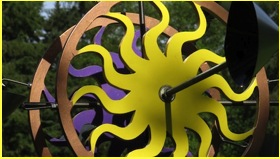 These 2 - 10" wheels turn in opposite directions, and the whole wind toy rotates horizontally with the wind, just like our popular Venusian. The 2 wheels make the most interesting optical illusion with one another as they turn.Very cool!
Take a look at this bright and beautiful, unique wind toy video!

"3rd GEAR"
The world's first gear-driven kinetic wind sculpture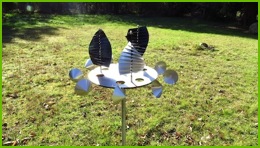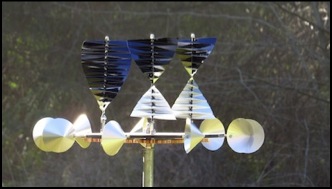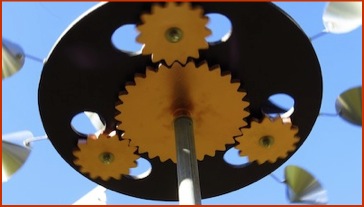 The movement of the wind turns the main horizontal disk, which causes the 3 planetary gears under the disk to turn the 3 spirals on the top of the disk. The whole effect is impressive choreography!
Take a look at the video below

Keep scrolling down for prices,
it's a really long page

Our first wind sculpture combo!
A Mini Rainbow combined with our Round 'n Round! Wow!!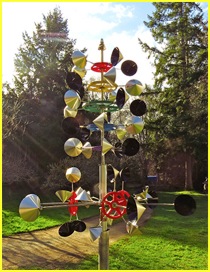 Watch the video of this unique wind toy!

Round n Round / Rainbow Wind Toy Combo ! from Savanna on Vimeo.

ORGANIC VENUSIAN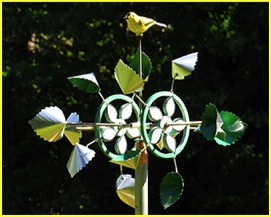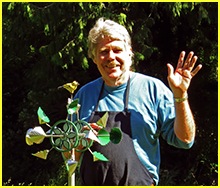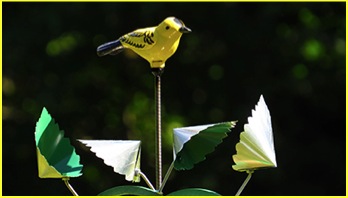 We call this our Organic Venusian, with 6" petal-shaped wheels, leaf-shaped wind driver cups, and a goldfinch on top!
You can choose your own color for this elegant little wind toy, and even choose a different shape at the top if you like...
Video of our Organic Venusian below:



SPIRAL WIND VANES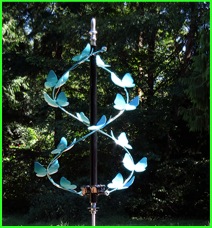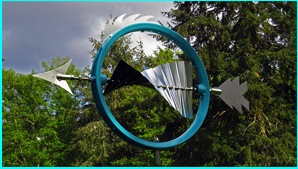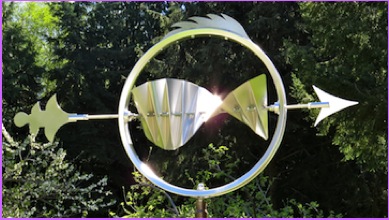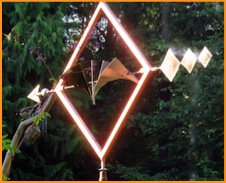 We're building the coolest wind vanes you'll ever see! Each one turns into/in the wind and when it does, the spiral(s) turns at the speed of the wind... and they sparkle so magically in the sun!
Spiral Wind Vane Video:

Want one of our super unique wind toys? Below is a selection, with name, photo & price. If you don't see a price for the one you like, just email, text or call us. Our on-hand inventory changes, and every sculpture is custom built. Custom colors are available for any wind toy! NOTE: the larger sculptures cannot ship, so local pick up only. Prices do not include shipping/handling

QUEEN OF HEARTS - $399 (Local pick up only)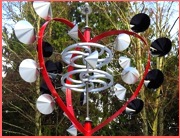 SPIRAL HELIX WIND VANE - $399 (Local pick up only)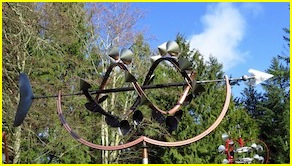 SEA STAR - $499 (Local pick up only)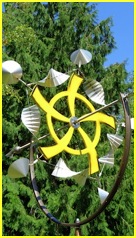 WHEEL IN THE SKY - $499 (Local pick up only)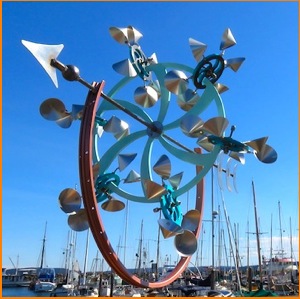 RAIN/SNOW GAUGE & WIND VANE - $349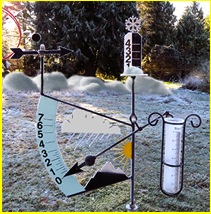 4-WHEEL DRIVE - $399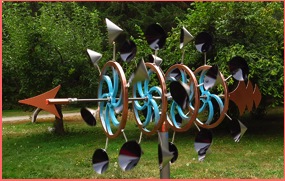 SPIRAL WIND VANE - $399 (Local pick up only)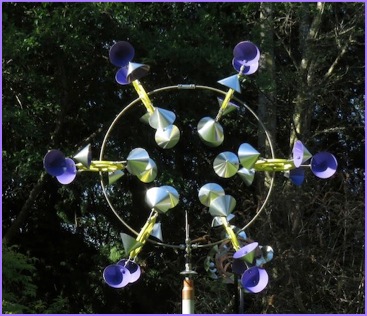 ROUND 'N ROUND - $399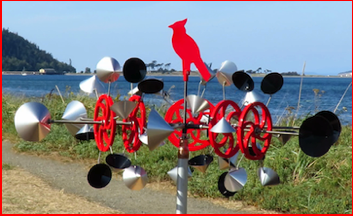 HYPER DRIVE - $399 (Local pick up only)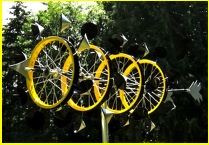 SUNNY SKIES - $349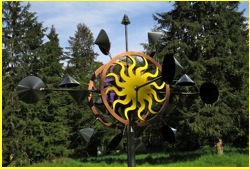 3RD GEAR - $349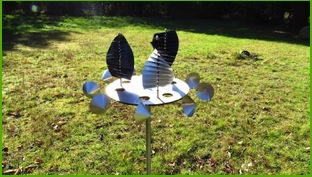 ORGANIC VENUSIAN - $399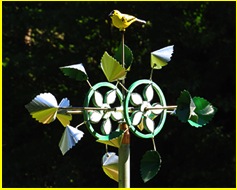 RAINBOW - Custom colors available!
5 wheel version -$399 (Local pick up only)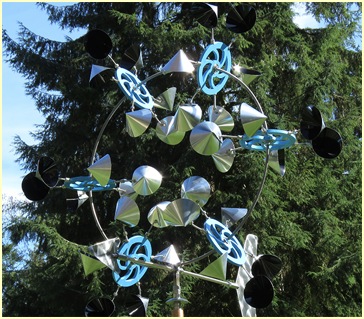 5 wheel mini-Rainbow -$299 - 4", 5" & 6" wheels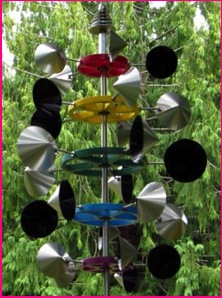 VENUSIAN
Custom colors available!
The original "Venusian"- $399
Micro Venusian - $349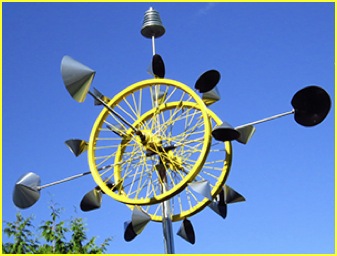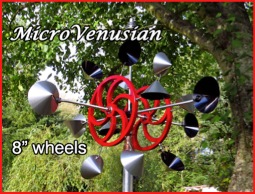 FLUTTERBY - $399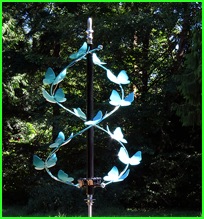 SPIRAL WIND VANES - Custom colors available
$349- round vanes
$399- square (diamond) frame vanes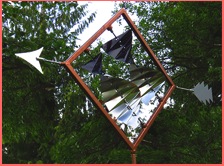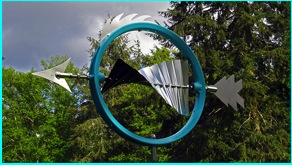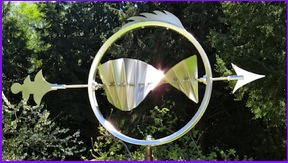 Video of a small version of the "Gemini"

Video of our larger (very impressive!) version of the "Gemini"


❋ ❋ ❋ ❋

Our garden visitors...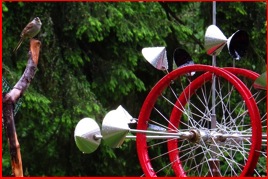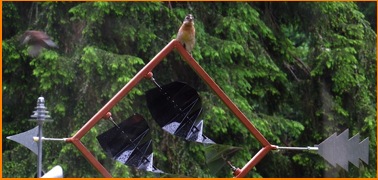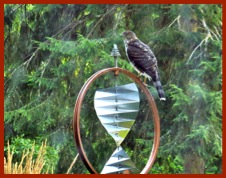 Working at fabricating... using recycled materials with many of our tools running on solar power! Plus we use all stainless steel parts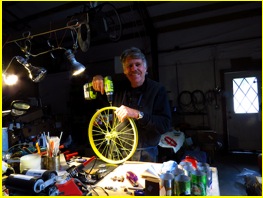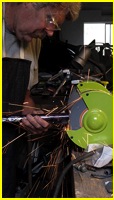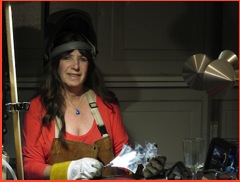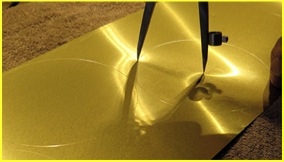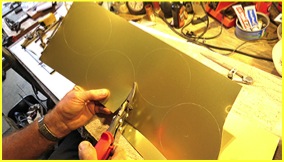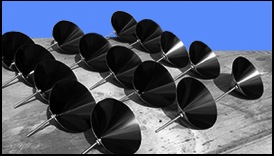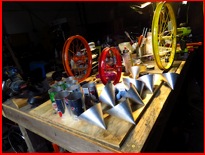 We use aluminum flashing to make the cups that catch the wind, recycled bicycle wheels & marine-grade plywood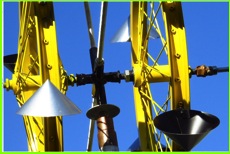 All parts are custom fabricated, which means everything is designed, sourced,
welded and tested by the factory (that's us!)

❋ ❋ ❋ ❋
We installed a "Venusian" and a "Saturnian"
on top of 2 greenhouses at our local
Chimacum Corner Market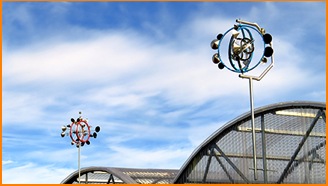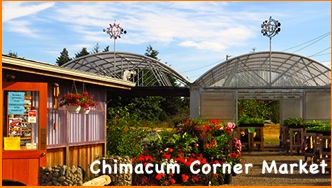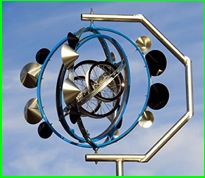 A "Venusian" installed at our local food co-op... and they now have our "Rainbow" and "SeaBird"! They love our wind toys because the movements and designs are so interesting and unique!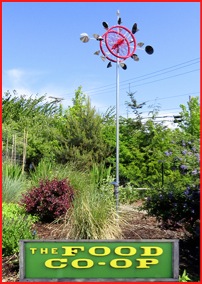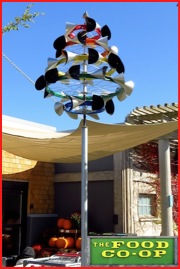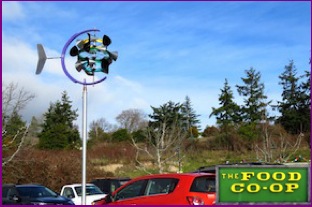 Visit our Kinetic Kustomer Photo Gallery by clicking on the link in the column way up to your left--
we have lots of really satisfied Kustomers!


Wind toys with solar lights... Truly magical!!!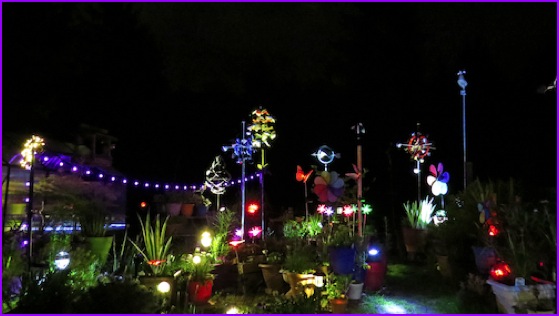 Toll free 866-799-1770 call or text
Email - wildnaturesolutions@gmail.com
9am -9pm PST - 7 days a week
wildnaturesolutions@gmail.com