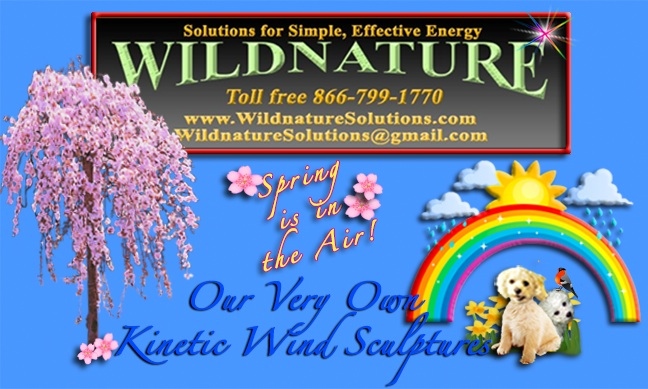 Just Add Wind - each unique wind sculpture
moves easily in the slightest breeze

Please scroll down the whole page, it's really a long one
and there's so much cool stuff to see!
There are prices near the end of the page, also...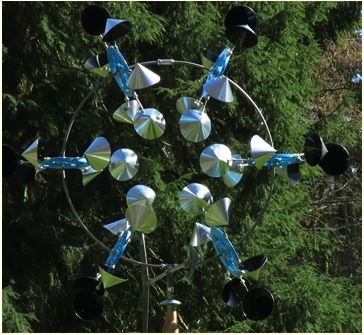 "Follow me to our newest wind toys... and keep checking back for more!!

The world's first gear-driven kinetic wind sculpture - "3rd Gear"!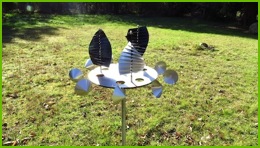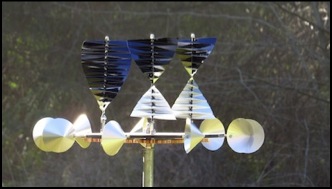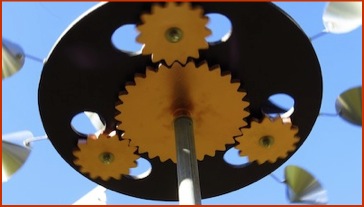 Take a look at the video below for our very, very unique 3rd Gear.
The movement of the wind turns the main horizontal disk, which causes the 3
planetary gears under the disk to turn the 3 spirals on the top of the disk.
The whole effect is impressive choreography!




Our first wind sculpture combo!
A Mini Rainbow combined with our Round 'n Round! Wow!!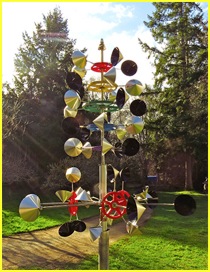 Watch it move in this video below... Your eyes want to keep watching it!!

Round n Round / Rainbow Wind Toy Combo ! from Savanna on Vimeo.
This 5-wheel Rainbow sparkler moves so easily in the breeze!
It's so colorful - you have to smile when you see it!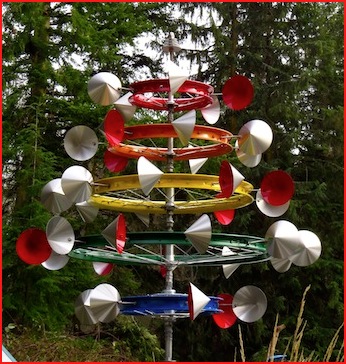 4-Wheel Drive has arrived, and it's a wind vane also!
4 spiral wheels, all with wind driver cups, rotate in the opposite direction to each other,
while the whole wind sculpture turns with the direction of the wind.
The coolest thing is that when all of the wheels are directly lined up to your vision,
the spiral patterns make elegant flower shapes!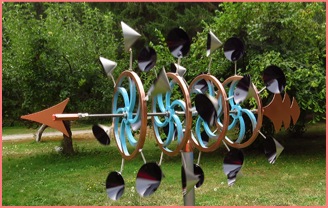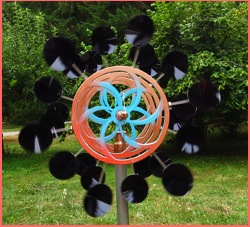 Check out the video of this unique, mesmerizing wind toy!






This is the first ever Analog Rainfall Gauge... really!
It displays the level of rainfall by weight... Can be read at a glance from across your yard
or garden...how cool is that?
See the video of this Rainfall Gauge in action below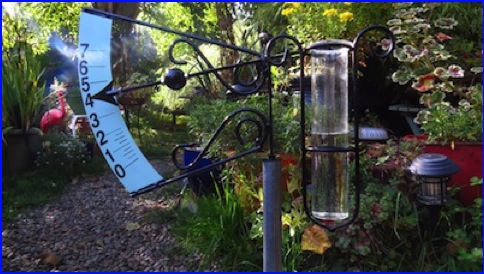 Our new Flutterby is here!
The 2 spirals rotate together and are lined with butterflies flying in the breeze...
We lined the spirals with solar LED fairy lights so they light up in our magical night time garden!!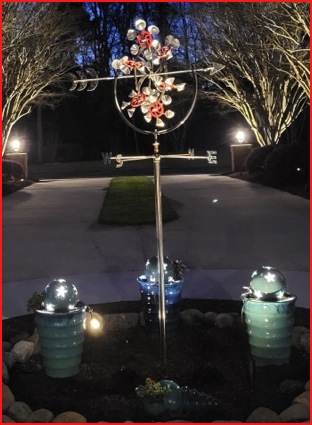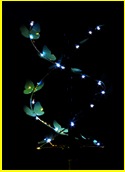 2 new videos of Flutterby - day and night!


Flutterby night flight!









We call this our Organic Venusian, with 6" petal-shaped wheels, leaf-shaped wind driver cups, and a goldfinch on top!
You can choose your own color for this elegant little wind toy, and even choose a different shape at the top if you like...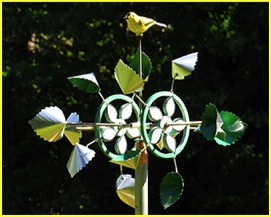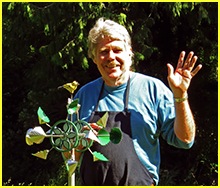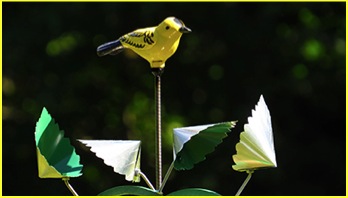 Beautiful new video of our Organic Venusian!










Snowflake is here, back by popular demand!
Each of the 6- 4" wheels turn independently in the wind and in the center,
the wind-driven cups almost touch, but not quite!
It's very dynamic and hard not to watch!
And the whole wind toy is a wind vane rotating in the wind and showing the wind direction...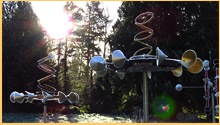 Cool new video of our Snowflake!




We're building the coolest wind vanes you'll ever see!
Each one turns into/in the wind and when it does, the spiral(s) turns at the speed of
the wind... and they sparkle so magically in the sun!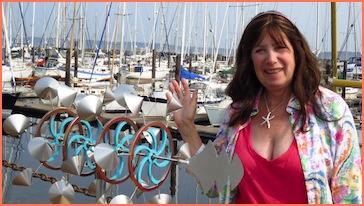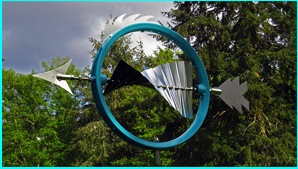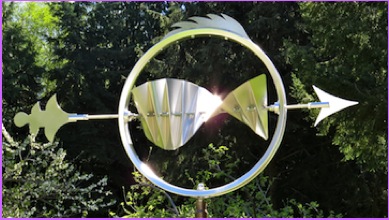 Spiral Wind Vane Video!





Our new Round 'n Round! Three 4" vertical wheels turn independently in the wind,
while all the wheels go round 'n round (horizontally) in the wind!
It has super breezy action and is so fun to watch!
We can customize the shape at the top for you (cardinal bird in the photo), also...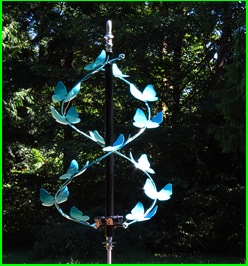 New video of our Round 'n Round!






A 5-wheel Rainbow! Wow... it's soooo handsome with rain drops or in the melting snow...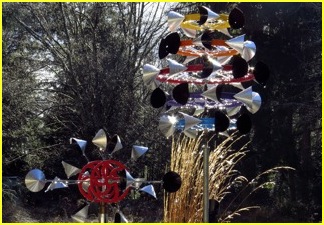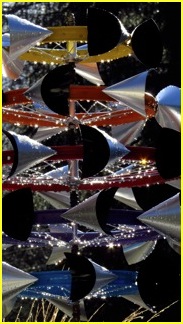 Gallery of Beautiful snow-covered Wind Toys!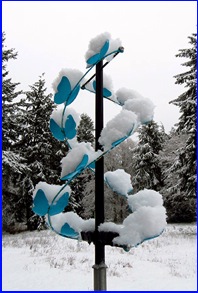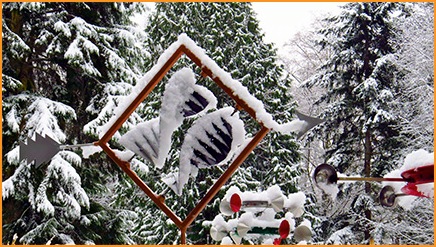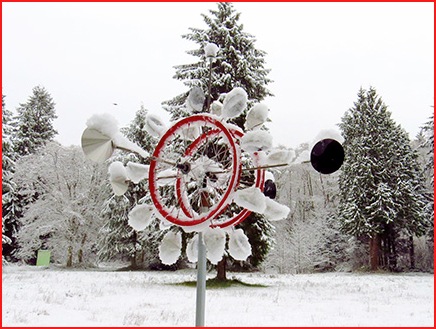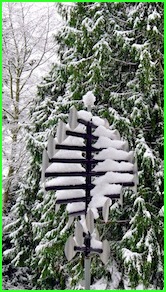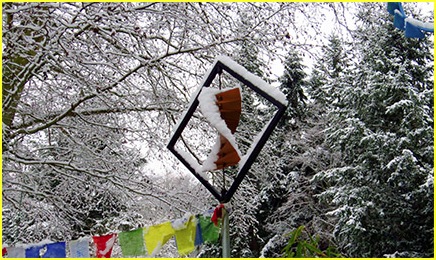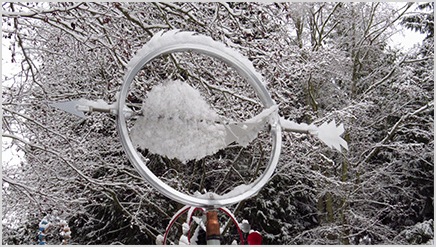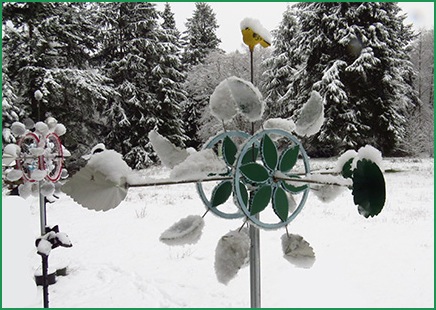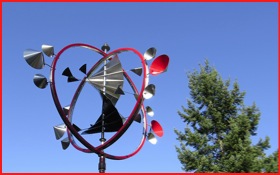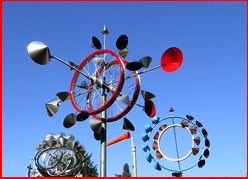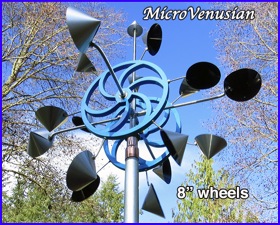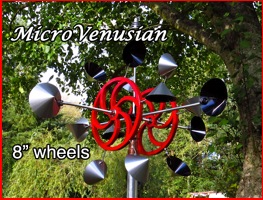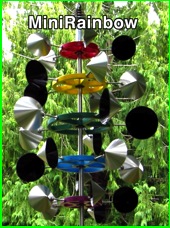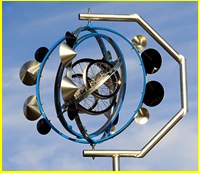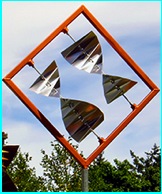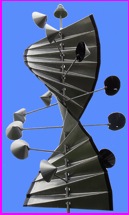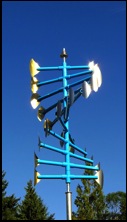 We design and build these wind toys (as we call them),
and they are all one-of-a-kind!
Some folks call them whirligigs, kinetic sculptures,
or windmills. But whatever you call them,
you won't see these anywhere else. Made from (mostly)
recycled material sourced locally, these very cool wind sculptures
bring smiles and joy to all who watch them play in the wind!
We call our wind farm the "Field of Dreams" !




Click on this link to see the video of our beautiful new "Rainbow Warrior"! It is simply gorgeous!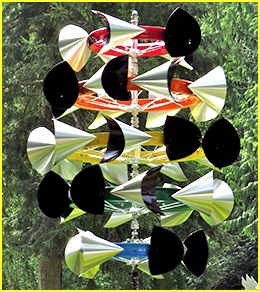 Video of our popular design, a small version of the "Gemini"

Video of our larger (very impressive!) version of the "Gemini"

❋ ❋ ❋ ❋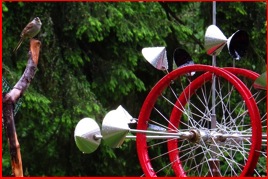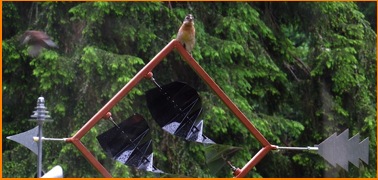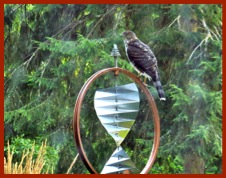 Our garden visitors...





Craig working in his shop
designing and fabricating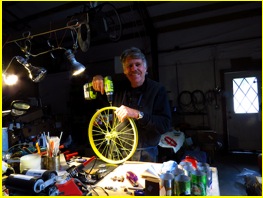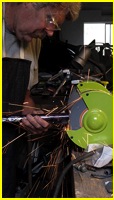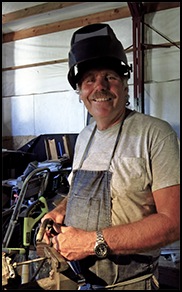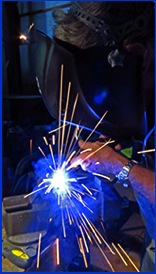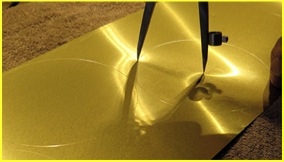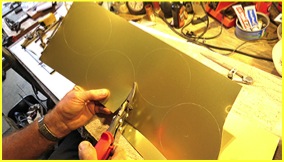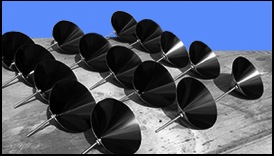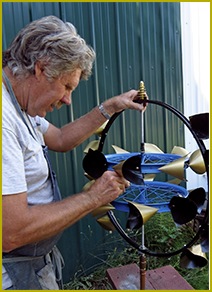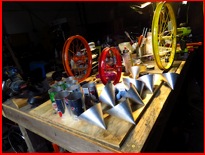 We use aluminum flashing and/or soda cans to make the cups that catch the wind,
and recycled bicycle wheels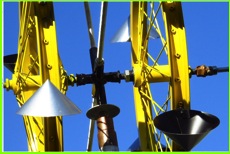 All parts are custom fabricated, which means everything is designed, sourced,
welded and tested by the factory (that's us!)






SOME OF OUR DESIGNS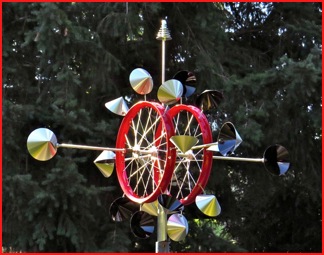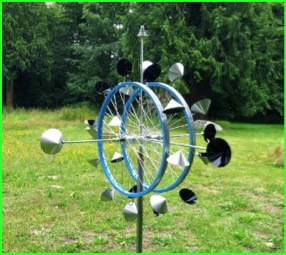 Our most popular! The "Venusian"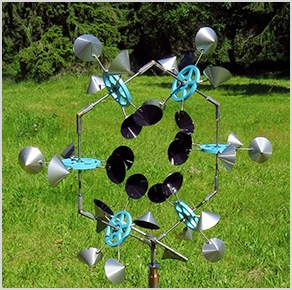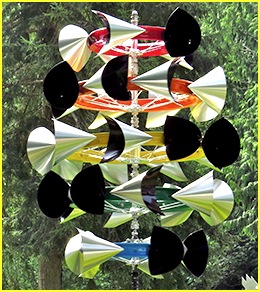 Rainbow Warrior - absolutely stunning!



Two more NEW and outstanding designs!!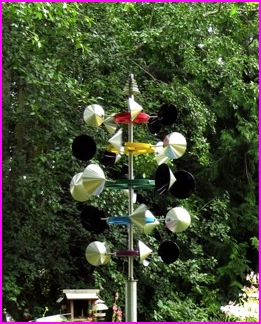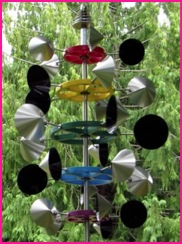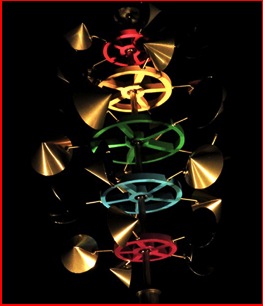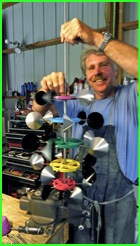 The Mini Rainbow
4", 5", and 6" wheels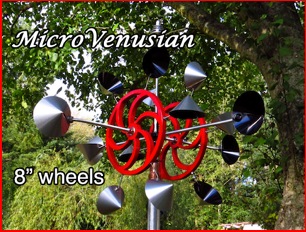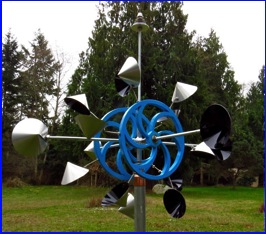 The MicroVenusian
a smaller, elegant version of our larger Venusian design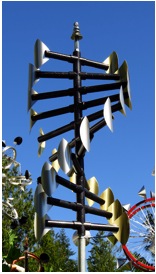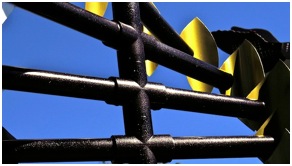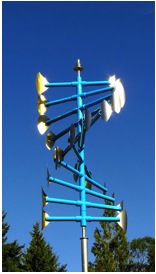 Really cool Spirals (these are coated with glitter!)
Choose your color...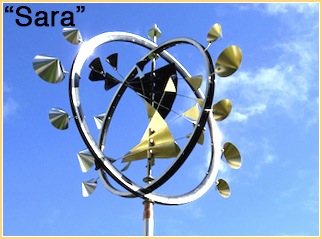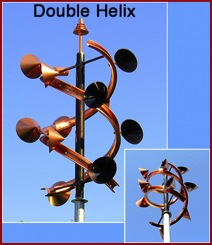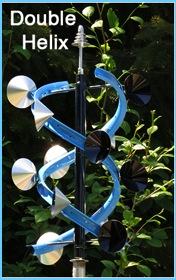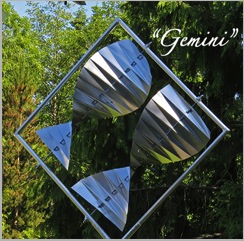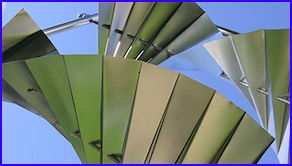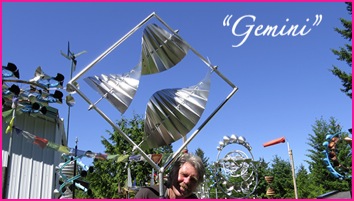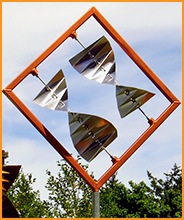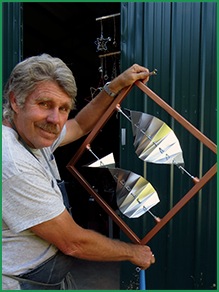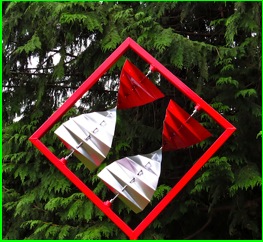 ❋ ❋ ❋ ❋

We installed a "Venusian" and a "Saturnian"
on top of 2 greenhouses at our local
Chimacum Corner Market.


"Venusian" and "Saturnian" flying high!!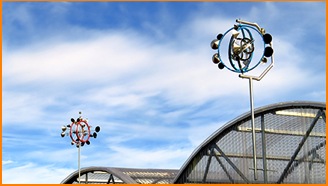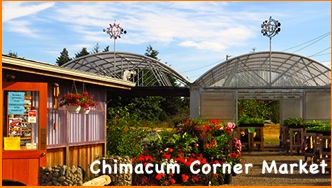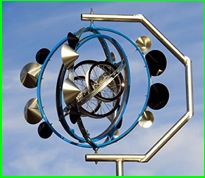 An 8.5 foot tall spiral downspout
between the greenhouses that will spin with the rainwater AND wind... coming soon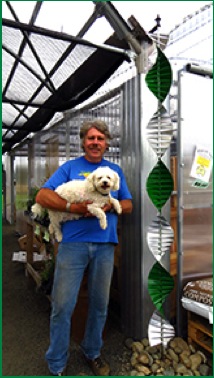 This spiral actually took lots of work (they all do, but some more than others),
and here are a few photos of the build in progress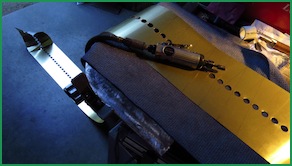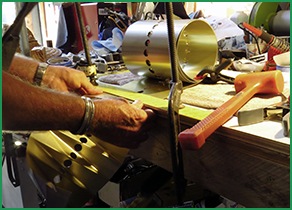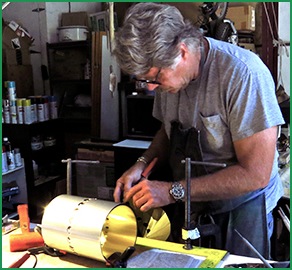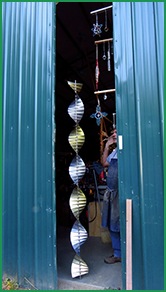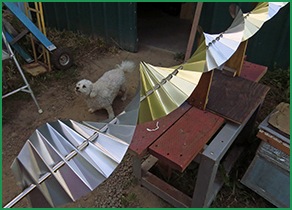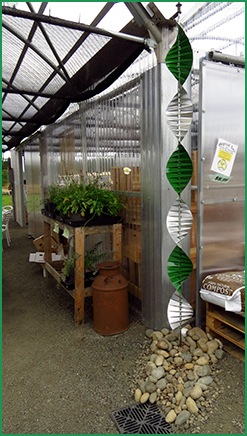 A "Venusian" installed at our local food co-op...
They love it because it brings their garden to life!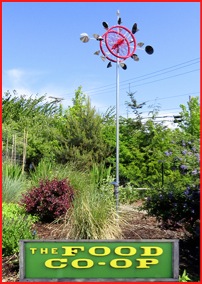 ❋ ❋ ❋ ❋


Want one of these super cool wind toys?
Below is a selection of just a few, with prices.
If you see one in the photos/videos that you like, email or call us.
Our on-hand inventory changes, and every sculpture is custom built.
Custom colors available!



We call this impressive wind sculpture the "Rainbow Warrior"!
Take a look at our new "Rainbow Warrior" video at the top of the page,
and our new Mini Rainbow photos above.
Every wheel moves independently in the wind.
Custom colors available!

5 wheel version @ $399 + shipping/handling: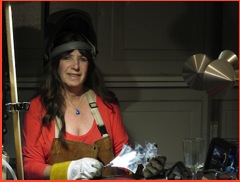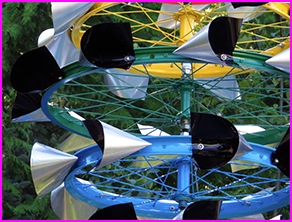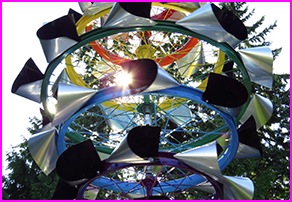 5 wheel mini-Rainbow @ $299 + shipping/handling:
4", 5" and 6" wheels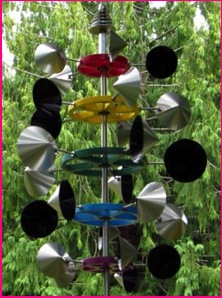 ❋ ❋ ❋ ❋







We call this the Venusian... why that name you ask?
Because these are Cosmic, man!
It's our most popular wind sculpture...
This sculpture's 2 vertical axis wheels move in opposite directions,
and the entire sculpture moves in a circular motion at the same time.
Gyroscopic forces keep it from spinning too fast (cool, huh!).
Custom colors available.

The original "Venusian" @ $349 + shipping/handling
Our new Micro Venusian @ $299 " "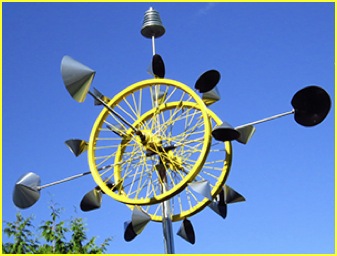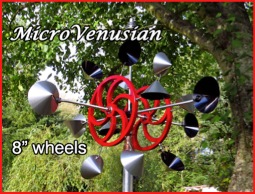 ❋ ❋ ❋ ❋



The magical and mesmerizing Flutterby!!
With on-board LED fairy lights on each spiral, it's really unique, and at night...fabulous!
Shown with turquoise butterflies, but you can choose your color.

$399 + shipping/handling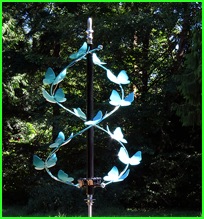 ❋ ❋ ❋ ❋



Our new Wind Vanes-
They are truly mesmerizing to watch rotating in the wind!
Custom colors available.

$299 + shipping/handling for the round vanes
$349 + shipping/handling for the square (diamond) frame vane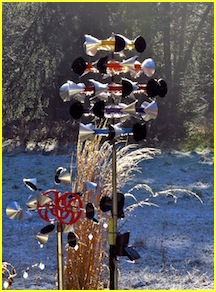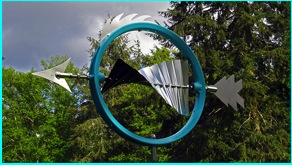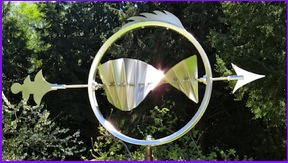 ❋ ❋ ❋ ❋




Our new Round 'n Round
What fun to watch!
Custom colors and shapes on top available.

$299 + shipping/handling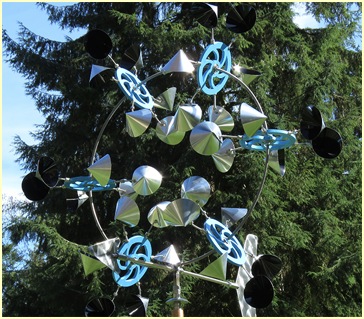 ❋ ❋ ❋ ❋





Our new Snowflake is back!
It's super dynamic to watch...
Custom colors available.

$349 + shipping/handling








❋ ❋ ❋ ❋








These spiral wind toys are simple yet elegant, and they really sparkle in the sun!
To see the effect, see our "Gemini" near the top of this page. Two spirals in a square frame.
Custom colors available.

$349 + shipping/handling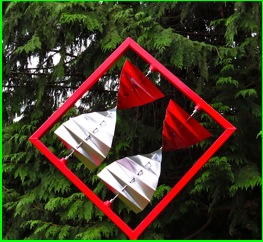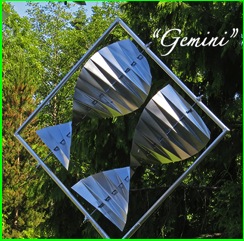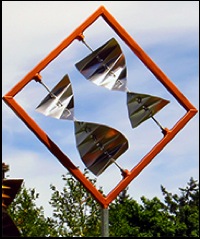 ❋ ❋ ❋ ❋




"Circles of Light"
The inner wheel rotates in the opposite direction
of the outer wheel in the wind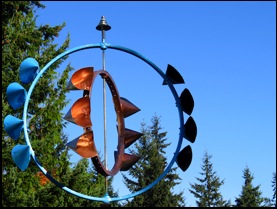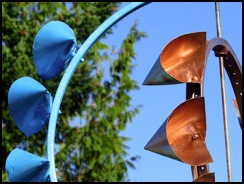 We've added a clear glitter spray to our "Circles of Light" --
Wow! It's very impressive in the sun!!



"Saturnian"
All the wheels tumble and rotate. It's really impressive!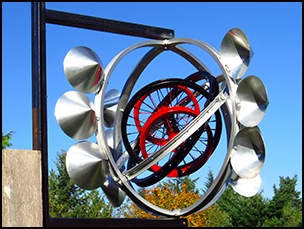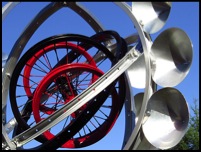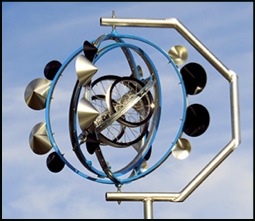 Toll free 1-866-799-1770
9am -9pm PST - 7 days a week
wildnaturesolutions@gmail.com